We Are Still Helping Clients Through These Unprecedented Times
A Special Note to Our Clients
Right now, we are all living and working in unprecedented times. At Berkshire Hathaway HomeServices Preferred Real Estate we are committed to preventing the spread of Covid-19 by going above and beyond CDC and local health officials' recommendations in our offices, work areas and personal spaces. We very much respect our government's attempt to help slow the spread of this new virus while at the same time, working to keep our market functioning by lowering interest rates and trying to incentivize activity. The question for buyers and sellers is, how do you navigate both?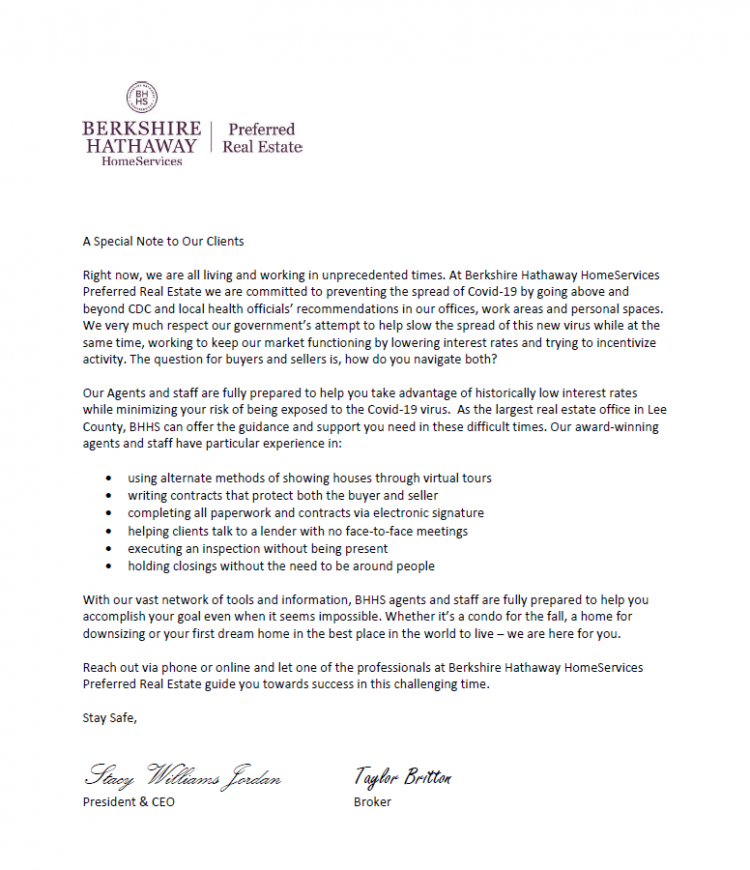 Our Agents and staff are fully prepared to help you take advantage of historically low interest rates while minimizing your risk of being exposed to the Covid-19 virus. As the largest real estate office in Lee County, BHHS can offer the guidance and support you need in these difficult times. Our award-winning agents and staff have particular experience in:
using alternate methods of showing houses through virtual tours
writing contracts that protect both the buyer and seller
completing all paperwork and contracts via electronic signature
helping clients talk to a lender with no face-to-face meetings
executing an inspection without being present
holding closings without the need to be around people
With our vast network of tools and information, BHHS agents and staff are fully prepared to help you accomplish your goal even when it seems impossible. Whether it's a condo for the fall, a home for downsizing or your first dream home in the best place in the world to live – we are here for you.
Reach out via phone or online and let one of the professionals at Berkshire Hathaway HomeServices Preferred Real Estate guide you towards success in this challenging time.
Stay Safe,
Stacy Williams Jordan Taylor Britton
President & CEO Broker
Tags: Real Estate, Coronavirus, Covid-19